A message from Nathaniel Borenstein nsb@guppylake.com.

I want to tell you about an organization I support. Nonviolent Peaceforce trains unarmed civilians to promote peace, reduce violence and protect people in conflict zones. They are reuniting families separated during conflict, providing unarmed accompaniment for women to prevent sexual assault, and creating safe space for dialogue between conflicting parties.

Through these efforts Nonviolent Peaceforce has reunited the most families in South Sudan out of any non-governmental organization (NGO) and incidents of rape have been reduced to zero in some areas of the country.

Please go to http://www.nonviolentpeaceforce.org to find out more about the organization.

Sincerely,
Nathaniel
<![if !vml]>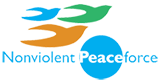 <![endif]>2610 University Ave W, Ste. 550, St.Paul, MN 55114, USA
Tel: +1.612.871.0005
Nonviolent Peaceforce © 2018 All rights reserved.